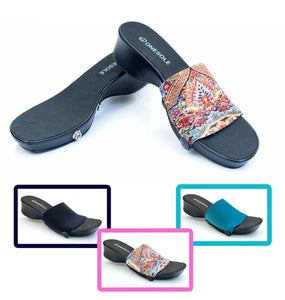 * Leisure Black Tibetan Travel Kit*
Kit includes one pair of Leisure Black 
Soft Step Shoes(1 inch flat with memory footbed and stainless steel snaps) 
and SS289(Tibetan Top), Solid Black, and Solid Turquoise interchangeable shoe tops .
One pair of Shoes and Two Pairs of Tops Included with this kit.
This kit makes the perfect gift for anyone who loves shoes! All you will need for your next trip, are one sole and a couple of tops and you will be ready to go!
Available in whole sizes 5-13